A highly respected chamber choir based in Writtle, near Chelmsford, Essex.
With some exciting concerts coming up this is a great time to join Writtle Singers. We are happy to audition prospective members at any time. Check out the About Us page on this website and if you are interested just email info@writtlesingers.org
---
Quiz
Saturday 29 February 2020
The Christian Centre, Writtle
Tables of up to 8 people
Email  here  to book your places and make your food choices
---
Spring Concert – Made In Essex
Saturday 4 April 2020 at 7.30pm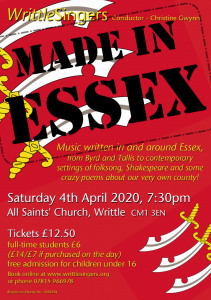 Music written in and around Essex, from Byrd and Tallis to contemporary settings of folksongs, Shakespeare and some crazy poems about our very own county!
Tickets £12.50
full-time students £6
(£14/£7 if purchased on the day)
free admission for children under 16
Order your tickets here
or phone 07815 966978
All Saints' Church, Writtle
Musical Director: Christine Gwynn
---
Please check the Future Plans page for our other forthcoming dates