Writtle Singers Zurich trip in April 2011
On Sunday 10 April at St Andrew's the choir sing the Missa Brevis by James MacMillan at the 10.30 Sung Eucharist.
At 5:00 there was a concert in St Andrew's with music by Henry VIII, Weelkes, Sweelink, Monteverdi, Vaughan Williams, Holst and Saint-Saëns.
Monday 11 April there was an evening concert in Langnau in Albis.
The trip coincided with Sechseläuten ("The six o'clock ringing of the bells"), a traditional spring holiday in the Swiss city of Zürich celebrated in its current form, usually on the 3rd Monday of April, since the early 20th century.
Following the parade of the guilds, the climax of the holiday is the burning of Winter in effigy, in the form of the Böögg, a figure of a snowman prepared with explosives.
See pictures of the events in the Gallery.
---
Writtle Singers trip to Cambridge on 27th June 2009
9.30 in Writtle on a lovely sunny Saturday morning and it's all aboard the coach. Truthfully is raining a bit by the time we get to Cambridge but that does not dampen the enthusiasm to get to Gonville and Caius College for our rehearsal.

Once the rehearsal is over, the onset of showers does not dampen our day, rather with the offer of "Free and Dry" our concert in the chapel has an extra selling point.
Whether it was that or super advanced publicity but more and more people kept streaming through the doors of the chapel until all the seats were taken.
The concert of excerpts of Vaughan Williams and Byrd masses with folk song arrangements and the beautiful Holst part songs was greeted by an enthusiastic audience and they were treated to Christine Gwynn's arrangement of the Overture to Mozart's The Marriage of Figaro.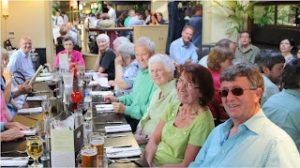 After the concert the sun was shining again and there was more time to take in Cambridge before meeting up again for our evening meal.
Fully replete it's back on the coach and returning exhausted to Writtle
Verdict? An altogether brilliant day!
---
Writtle Singers toured Yorkshire in April 2007.
St Mark's, Harrogate
on Friday 13th April at 1pm
Bolton Abbey
on Saturday 14th April at 6pm
York Minster
at 2pm on Sunday 15th April
---
Writtle Singers Tour of Prague
22 to 25 October 2005
Writtle Singers' tour to Prague from 22nd to 25th October included Mass at St Ludmila's church near the centre of Prague followed by a  concert shared with a local choir Vox Nymburgensis as well as a concert at the  Kulturní centrum Zahrada, Garden Culture Centre with the choir, Zus Hostivar, where the Singers were praised by the secretary of the Czech Choirs Association  for their expressive performing and fine dynamic control. Writtle Singers sang music by Mozart, de Kerle and Gallus who all have associations with Prague as well as British composers such as Byrd, Holst, Walton and Finzi. Members of Zus Hostivar enjoyed practising their English during the post-concert meal at a local restaurant, whilst Writtle Singers members faltered over their few words of Czech! A member of the Singers said " the concert in Kulturní centrum Zahrada was one of the highlights as it was really great to meet some locals and have a proper chat".
Tour Repertoire
| | |
| --- | --- |
| Adriaenssen (c1554-1604) | Dibedibedon |
| Victoria  (1548-1611) | O quam gloriosum |
| Viadana 1560-1627) | Exsultate justi |
| de Kerle (1531/2-1591) | Asperges me |
| Gallus (1550-1591) | O salutaris hostia |
| Palestrina (1521-1594) | Alleluia |
| Byrd (1542-1623) | Mass for four voices |
| | Mše pro čtyří hlasy |
| Mozart (1756-1791) | Overture: Le nozze di Figaro |
| | Předehra k opeře Figarova svatba |
| Grieg (1843-1907) | Ave maris stella |
| Casals (1876-1973) | O vos omnes |
| Alan Bullard (b 1947) | Ave maris stella |
| Holst (1874-1934) | Five Partsongs: |
| | pět písní pro sbor: |
| | Dream tryst |
| | Vysněné rande |
| | Ye little birds |
| | Vy ptáčkové |
| | Her eyes the glow-worm lend thee |
| | Její oči planou jako dvě světlušky |
| | Now is the month of Maying |
| | Je tady máj |
| | Come to me |
| | Přijď ke mně |
| Walton (1902-1983) | Set me as a seal |
| | Položiž mne jako pečet |
| Harris (1883-1973) | Faire is the heaven |
| | Krasné je nebe |
| Bairstow (1874-1946) |  Let all mortal flesh keep silence |
| |  Smrtelníci zustávají potichu |
| Finzi (1901-1956) | My spirit sang all day |
| | Moje duše zpívala celý den |
Writtle Singers Tour of Antwerp
15 to 18 April 2004
Writtle Singers and friends undertook their first international tour from 15 to 18 April 2004.
The itinerary took in Antwerp, where they sang High Mass in the impressive seven-aisled Cathedral and a concert in the beautiful St Paul's Church, and in Sint-Lenaarts with a concert in Sint-Lenaart's Church.
Cathedral where we sang mass on Sunday morning
Cathedral spire
also the Cathedral
St Paul's our venue for Friday
 
REPERTOIRE FOR MASS IN ANTWERP CATHEDRAL
INTROIT ~ Pitoni Cantate Domino
MASS setting ~ Caplin ~ Missa Omnium Sanctorum [Kyrie, Gloria, Sanctus & Benedictus, Agnus Dei]
ANTHEM AFTER FIRST READING ~ Stanford ~ Beati Quorum Via
GRADUAL (before gospel) ~ Palestrina ~ Alleluia
OFFERTORY Organ
COMMUNION Durufle ~ Ubi Caritas
REPERTOIRE FOR CONCERTS
English and European renaissance and baroque (sacred & secular)
Morley Sing we and chant it
Gibbons The Silver Swan
Adriaennsen Dibedibedon
Certon La la la, je ne l'ose dire
Willaert Irons-nous toujours coucher
A Gabrieli Angeli, archangeli
Lotti Crucifixus
Monteverdi Cantate Domino
European 19th/20th – sacred
Bruckner Locus Iste
Grieg Ave maris stella
Rachmaninov Ave Maria
Casals O vos omnes
Stravinsky Ave Maria
English sacred and secular
Britten Hymn to the virgin
Stanford Beati quorum via
Elgar My love dwelt in a northern land
Elgar As torrents in summer
Holst Now is the month of maying
Holst Come to me
Finzi My spirit sang all day